Pages 591-610
This page-by-page annotation is organized by sections, as delineated by the seven squares (sprockets) which separate each section. The page numbers for this page-by-page annotation are for the original Viking edition (760 pages). Editions by other publishers vary in pagination — the newer Penguin editions are 776 pages; the Bantam edition is 886 pages.
Contributors: Please use a 760-page edition (either the original Viking edition with the orange cover or the Penguin USA edition with the blue cover and rocket diagram — there are plenty on Ebay for around $10) or search the Google edition for the correct page number. Readers: To calculate the Bantam edition use this formula: Bantam page # x 1.165. Before p.50 it's about a page earlier; as you get later in the book, add a page.
Finally, profound thanks to Prof. Don Larsson for providing the foundation for this page-by-page annotation.
Page 592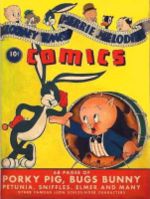 592.32
an American Bugs Bunny comic book
See note on 545.04-05. Bugs Bunny, like Porky Pig, was a Warner Brothers, not Walt Disney, creation. He was featured in Looney Tunes and Merrie Melodies Comics beginning with issue #1 in 1941. He did appear under his own name in issues of Dell's Four Color Comics (which featured characters from several studios, including Disney) under his own name beginning with issue #3 in 1943.
Page 594
594.31 Albert Krypton
Krypton is not only a colorless (not white), odorless, and tasteless inert gas but the home planet of Superman, destroyed in a natural nuclear chain reaction.
Page 597
597.06 Avery Purfle
"Purfle" is an ornamental border or trimming (Webster's New World Dictionary).
Page 600
600.0506 the same warm and wonderful organization that was charging fifteen cents for coffee and doughnuts, at the Battle of the fucking Bulge
Supposedly an actual event, although officers (of course) did not have to pay
600.19 "love in bloom"
"Love in Bloom" of a song composed by Leo Robin and Ralph Rainger for the 1934 film She Loves Me Not, starring Bing Crosby. The song was later better known as Jack Benny's theme song.
Page 605
605.21 Va-len-cia-a-a
"Valencia" was originally a French song with words by Lucienne Boyer and Jacques Charles, written in 1925. The American version was released the following year.
605.37-38 Ya salimos
These and the following words in Spanish are from "Viva la Quince Brigada" ("Long Live the 15th Brigade"), a song of the American volunteer Lincoln Battalion during the Spanish Civil War. The tune is adapted from an old Spanish folk song and the words refer to the bloody battle of the Jarama Valley, which was the Loyalist battalion's first taste of war. The words of the last two verses follow:
En los frentes de Jarama

Rumbala, rumbala, rum-ba-la (repeat)

No tenemos ni aviones

Ni tanques, ni canones, ay Manuela! (repeat)

Ya salimos de Espana

Rumbala, rumbala, rum-ba-la (repeat)

Par luchar en otros frentes

Ay Manuela, ay Manuela!
English:
At Jarama we are standing

Rumbala, rumbala, rum-ba-la

And we have no planes above us

Not a tank, nor any canons, ay Manuela!

We have left the Spanish trenches

Rumbala, rumbala, rum-ba-la

To fight the Fascists where we find them

Ay Manuela, ay Manuela!
Page 607
607.1 puto and sinvergüenza
Spanish, 'fucking' and 'scoundrel'. Manuela can now afford to call her loathsome client names (nominally for being impotent).
1
Beyond the Zero

3-7, 7-16, 17-19, 20-29, 29-37, 37-42, 42-47, 47-53, 53-60, 60-71, 71-72, 72-83, 83-92, 92-113, 114-120, 120-136, 136-144, 145-154, 154-167, 167-174, 174-177

2
Un Perm' au Casino Herman Goering

181-189, 189-205, 205-226, 226-236, 236-244, 244-249, 249-269, 269-278

3
In the Zone

279-295, 295-314, 314-329, 329-336, 336-359, 359-371, 371-383, 383-390, 390-392, 392-397, 397-433, 433-447, 448-456, 457-468, 468-472, 473-482, 482-488, 488-491, 492-505, 505-518, 518-525, 525-532, 532-536, 537-548, 549-557, 557-563, 563-566, 567-577, 577-580, 580-591, 591-610, 610-616

4
The Counterforce

617-626, 626-640, 640-655, 656-663, 663-673, 674-700, 700-706, 706-717, 717-724, 724-733, 733-735, 735-760