Pynchon and Brian Wilson
Pet Sounds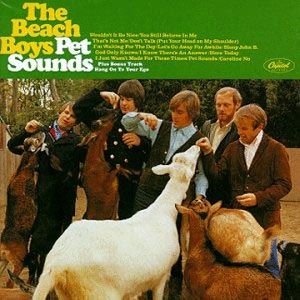 In his March 1977 Playboy article, "Who Is Thomas Pynchon...And Why Did He Take Off With My Wife?", Jules Siegel claims that in 1966 he visited Pynchon in his one-room apartment in Manhattan Beach, California, while on assignment to do an article on Bob Dylan for
The Saturday Evening Post
, to wit:
"I told him [TRP] about the Dylan assignment. 'You ought to do one on The Beach Boys,' he said. I pretended to ignore that. A year or so later, I was in Los Angeles again, doing a story for the Post on The Beach Boys [ultimately published by Cheetah magazine]. He had forgotten his earlier remark and was no longer interested in them. I took him to my apartment in Laurel Canyon, got him royally loaded and made him lie down on the floor with a speaker at each ear while I played Pet Sounds, their most interesting and least popular record. It was not then fashionable to take The Beach Boys seriously.
"'Ohhhhh," he sighed softly with stunned pleasure after the record was done. 'Now I understand why you are writing a story about them.'"
Tom Hangs with Brian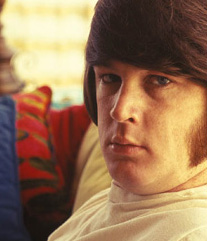 According to the 2006 bio of
Brian Wilson, Catch A Wave: The Rise, Fall and Redemption of the Beach Boys' Brian Wilson
(Peter Ames Carlin, Rodale, 2006), Jules Siegel and Pynchon paid a visit to Brian in Beverly Hills:
When Siegel brought his friend Thomas Pynchon up to the house one night, the famous hipster novelist sat in stunned, unhappy silence while the nervous, stoned pop star — who had dragged him into his then-new Arabian tent to get high — kept kicking over the oil lamp he was trying to light. "Brian was kind of afraid of Pynchon, because he'd heard he was an Eastern intellectual establishment genius," Siegel recalls. "And Pynchon wasn't very articulate. He was gonna sit there and let you talk while he listened. So neither of them really said a word all night long. It was one of the strangest scenes I'd ever seen in my life." (p.103-104).
See also Smoking Dope with Thomas Pynchon
Brian Wilson's Smile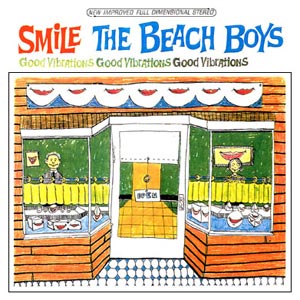 Smile
, Brian Wilson's ill-starred attempt at the ultimate pop album, is the most famous album that was never made (Until 2004, however, when Brian & Van Dyke Parks finally finished the album, released under Brian's name ... it's quite lovely).
Murray Wilson
was Brian's legendarily abusive father; he managed the Beach Boys early in their recording career, but was eventually fired.
In late 1966, fueled by the Zeitgeist, psychedelics, hubris and hashish, Brian set out to create his ultimate "teenage symphony to God." Earlier in 1966 he had almost singlehandedly created the acclaimed Pet Sounds, and had followed up that masterpiece with the gorgeous single, "Good Vibrations." (Paul McCartney has called Pet Sounds "the classic of this century" and the song "God Only Knows" the greatest pop song ever written.)
Unfortunately, as various personal and professional pressures mounted, Brian became destabilized. Smile had become unweildy in its scope, and the other Beach Boys thought it was too weird and feared they might lose their following (and their income). In May 1967, when Brian heard the Beatles' Sgt. Pepper's Lonely Hearts Club Band, he became completely dispirited (there was intense competition intermixed with the mutual admiration between the two groups) and ultimately scrapped the project.
In the last few years quite a number of tracks from the album have been officially released, revealing Smile, even in the rough, to be a splendid and highly imaginative "intertextual" tour of pop music's diverse landscape. Like Gravity's Rainbow, Smile runs the gamut from high art to total silliness, reflecting the kindred sensibilities of Wilson and Pynchon.
In 2004, a healthier and happier Brian Wilson finally completed Smile, releasing the album on Nonesuch Records and, with his amazing young band, touring the world performing the entire work as a 3-movement suite (I saw them at Davies Hall in San Francisco — it was stunning!). Brian continues to write and record music of extraordinary beauty and refinement.
Check out "Goodbye Surfing, Hello God", a 1967 article Jules Siegel wrote for Cheetah magazine. (Jules now actually charges folks for the privilege of reading his old magazine article! Come on, Jules! Give it up!)
Gravity's Rainbow Alpha Guide